With over a decade of experience at hundreds of events, DJ*DG is sure to make your next event a success. Fully licensed and insured, DJ*DG works with every budget to create the best dance experience possible. For rates, booking, and availability, click HERE
---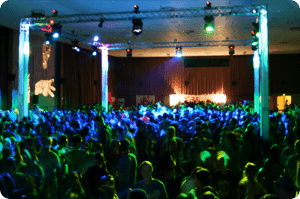 Vegas-Style Light Shows
A crowd's first impression of an event is crucial. High-impact lighting extends beyond initial reactions, and keeps students energized and excited throughout the event. DJ*DG has an extensive lighting inventory of custom truss structures, intelligent fixtures, custom gobo projection, lasers, uplighting, fog, and more to ensure your event's success.
---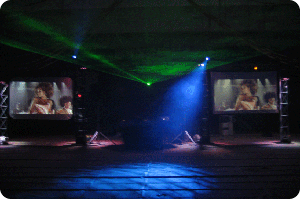 Music Video Mixing
Watch the music you're listening to throughout the night! DJ*DG combines sight and sound for a one-of-a-kind experience with a library of over 1,500 videos ranging from classic hits to the hot tracks of tomorrow. A custom ambient clip specifically tailored to your event's theme is complementary with every Music Video Mixing package. Click HERE to see DJ*DG mixing music videos live.
---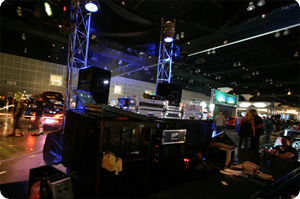 Sound and Staging
DJ*DG customizes the sound reinforcement for every event. Whether you need amplification for 50 or 5,000, your sound system will be perfectly tailored. A sound system is only as good as the music coming out of it, and DJ*DG has a library of over 10,000 songs to entertain your audience. Looking for an increase in student interaction at dances? Ask about DJ*DG's custom lighted dance platforms and stages to take your event to the next level!
---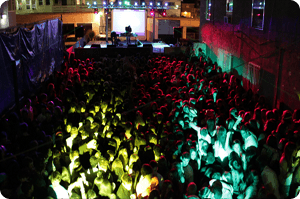 Certified Party Rocking Experience
The key to a successful high school dance is having a great DJ who knows how to rock the crowd – ask any student. A veteran of the party scene, DJ*DG performed over 100 events in the last school year alone. DJ*DG is no stranger to keeping crowds dancing, pulling from his experiences in Hollywood clubs and monthly radio show to keep everyone energized and having fun. Make sure to ask about on-site demos during lunch hours or an assembly to create a buzz for the upcoming dance!